How to Open NSF File In Mac – An Effortless Process
The query how to open NSF files in Mac has been enquired by many users every now and then depending upon their reason of requiring such switchover. Though we serve an ultimate solution for overcoming the aforementioned confusion i.e. Lotus Notes to MBOX Converter. This rich feature solution gives you the privilege of owing the ability of transferring your NSF data to Mac platform in the form of MBOX file format. NSF to MBOX Mac conversion served by this application is accurately backed with an algorithmic end which makes the procedure executable in a precise yet desirable manner.
Security and retention of your NSF file contents is absolutely ensured throughout the procedure with assurance so that all the data received will be in the desirable and expected form. Operating the software is a sheerly convenient procedure for users ranging from technically inclined to absolute novices so that the solution can be availed universally by anyone.

Illustration For Demonstration of FREE NSF to MBOX Mac Conversion
A free Lotus Notes to MBOX Converter version has been offered to users to avail the privilege of analyzing the software without paying any price. 15 items from the selected NSF file can be converted successfully into MBOX format absolutely for free of cost.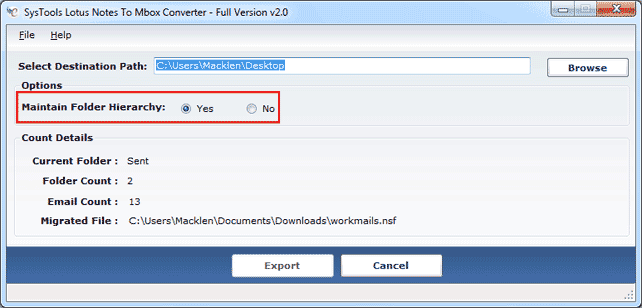 Once you be familiar with how to open NSF file in Mac then you are absolutely clear with the software functions and features you can purchase the licensed edition confidently to proceed with a limitless conversion of data from Lotus Notes to Mac MBOX file.
Get to Know How to Open NSF File In Mac Fluently
User just has to launch the Lotus Notes to MBOX Converter tool and load the respective NSF file(s) or folder on it; set the hierarchical order of the files that you want them to be in and proceed with Export button.

You can keep a check on the rate of conversion and the number of files converted and yet to be converted on the software window. This way you certainly will get to know how to open NSF file in Mac i.e. via an MBOX format file that too, by following an effortless procedure to convert Lotus NSF to MBOX.
Risk Free Solution